8 Wholesome Thanksgiving Picture Books about Thankfulness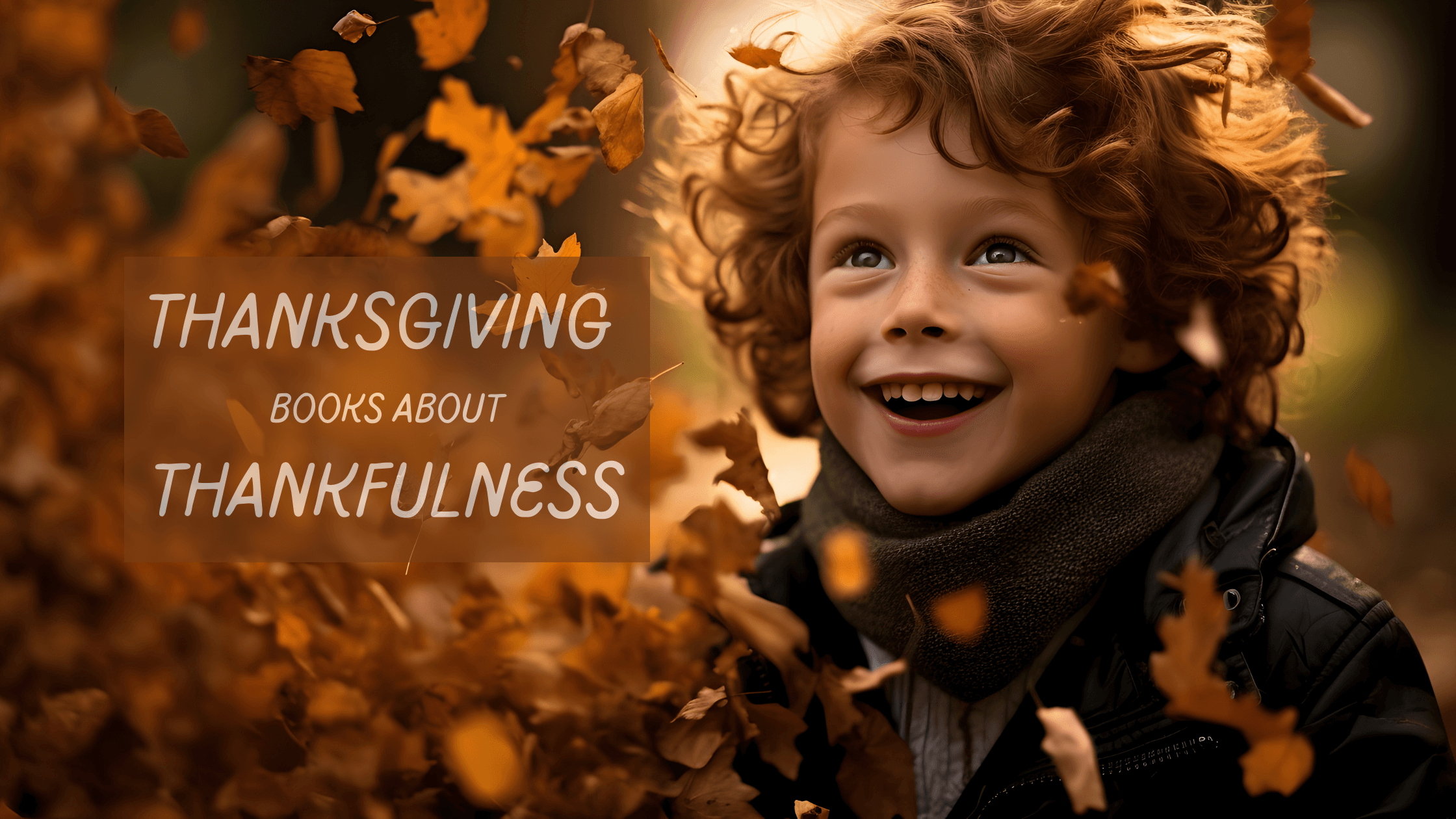 A season of Thankfulness. A holiday that has nothing to do with receiving presents and everything to do with being thankful for our blessings. Let's cultivate thankful hearts in our children. Here are eight wholesome books about thankfulness, including a true story about the history of the Macy's Thanksgiving Day Parade!
Children's Books That Promote Thankfulness on Thanksgiving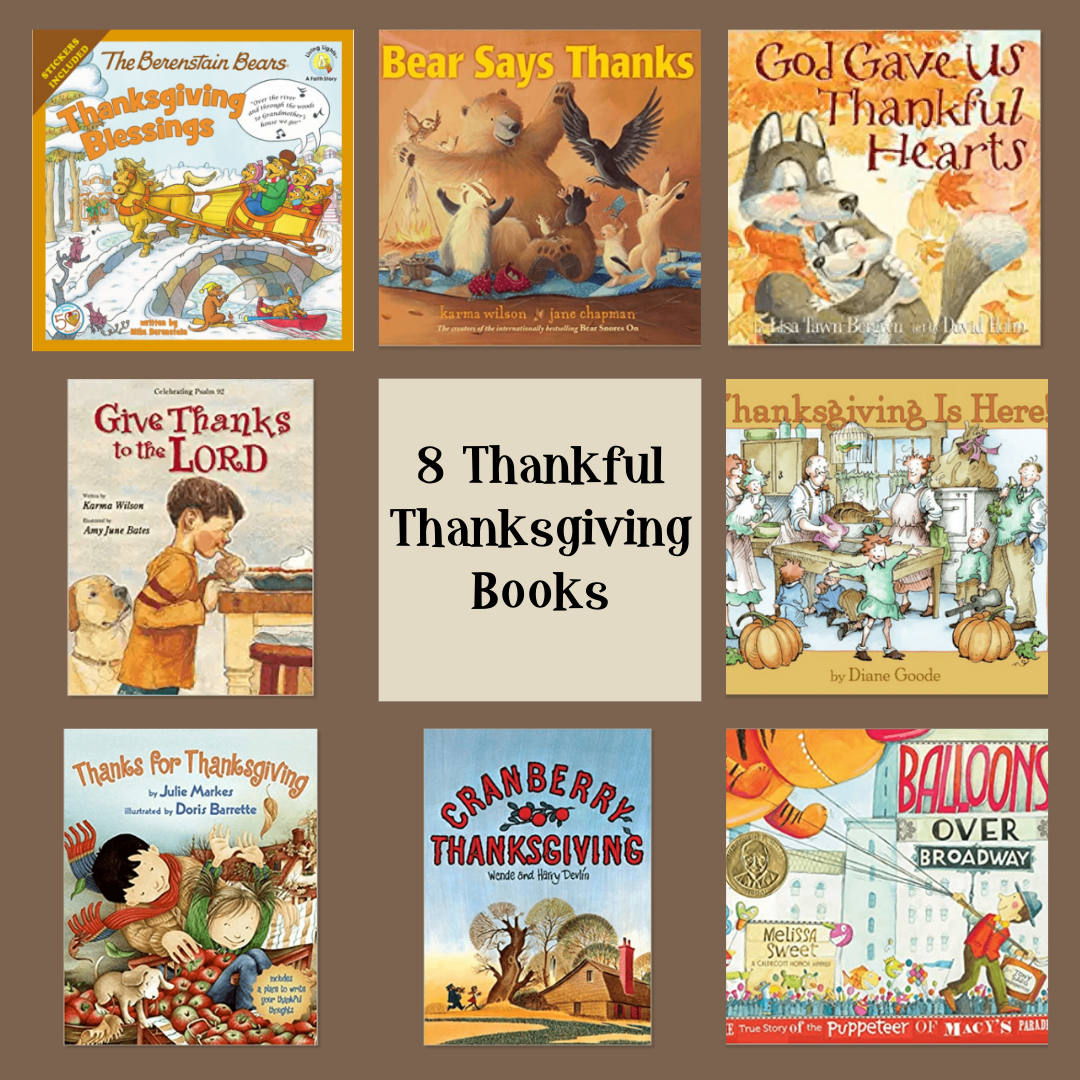 Give Thanks to the Lord
It is good to give thanks to the Lord
Inspired by Psalm 92 - a family is gathering to celebrate the Thanksgiving holiday and there is much to be thankful for!
Enjoy the cozy illustrations and poetic text as you follow the little boy on his thankfulness journey...from playing in the leaves - to a fabulous feast.
Cranberry Thanksgiving
Every year Grandmother invited a guest for Thanksgiving dinner and allowed Maggie to do the same.
Grandma has her famous cranberry bread recipe and it's a secret! When it disappears, she is sure the gruff, Mr. Whiskers is at fault. He's dirty, hairy, and she doesn't trust him.
She is sure the refined, Mr. Horace, would do never dream of stealing her precious recipe.
This is a fun book to read with your children around Thanksgiving - and discuss the hidden lesson. The recipe is included as well!
Balloons Over Broadway
Did you grow up watching the Macy's Thanksgiving Day Parade?
Enjoy this fabulous true story about the famous puppeteer behind the first balloons in the parade! The illustrations in this book are really fun and additional historical facts are included in the back.
Inventors demonstrate resilience and our children need resilience! Wholesome books are such a wonderful way to instill positive character traits while creating a special bond with your children.
Helpful Tip: The modern Macy's Thanksgiving Day Parade is not considered wholesome. However, you can find past parades on YouTube! So, join Al Roker and Katie Couric, for a parade from the 90's and enjoy the special memory with your children without cringing.
The Berenstain Bears: Thanksgiving Blessings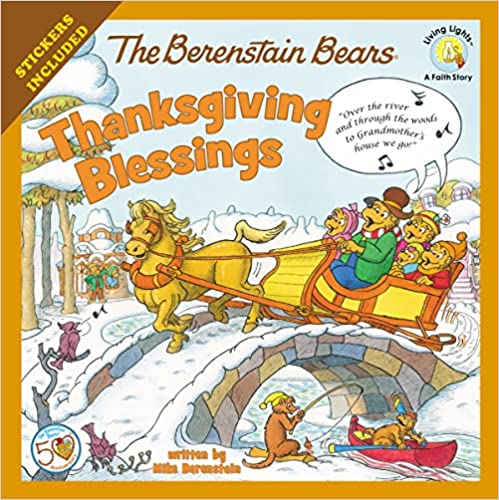 'Over the river and through the woods, to Grandma's house we go!'
The Berenstain Bears are off to Gramps and Gran's house for Thanksgiving! Along the way, Papa explains the story of the first Thanksgiving.
The book ends with Gramps giving thanks for the Thanksgiving feast!
Thanks for Thanksgiving
A Thanksgiving celebration of life's little pleasures
This story isn't strictly about Thanksgiving. The children give thanks for pets and piggy back rides and so much more!
I love a rhyming text and this one does not disappoint. Use this book to spur on a conversation with your child about thankfulness and let them add to the list!
You'll love the adorable illustrations!
Thanksgiving is Here
A visual feast for Thanksgiving.
Ding-dong, the doorbell chimes - more friends and family are here! Move the furniture, push the tables together, collect every chair you can find - the more the merrier!
This book is nostalgic for me as I reminisce on holidays at Grandma's. The laughter coming from the kitchen as we all congregate to cook up a feast and snitch what we can. Table leaves added to accommodate everyone and even the piano bench hauled over to use as a chair. Cars packed in the driveway - loved ones home from college, others in town for the holiday...and Grandma, absolutely glowing with joy at the sight of her home plum full of family and friends.
This book portrays the joy of the holiday - family and friends with everyone pitching in to help pull off the Thanksgiving feast!
Bear Says Thanks
Bear has come up with the perfect way to say thanks—a nice big dinner!
Even forest friends can gather for a feast! Join Bear as his friends come over, one-by-one, carrying goodies for the party. Bear is disappointed his cupboards are bare and he has nothing to contribute....but he has good stories to tell!
Food, friends and fun stories in Bear's cave! This story is a great one for Thanksgiving or any time of year.
God Gave us Thankful Hearts
This is a great story to promote a spirit of thankfulness in your home. It would also be beneficial to read with a child struggling with transition.
Little Pup is discouraged to find winter and hibernation season approaching. This book follows the exchange between Little Pup and his mama and papa as they show him there is something to be thankful for in every season and circumstance.
Read this story if you're looking to inspire an attitude of gratitude within your home
---
May these books ignite an atmosphere of thankfulness in your home as you gather to celebrate Thanksgiving.

---